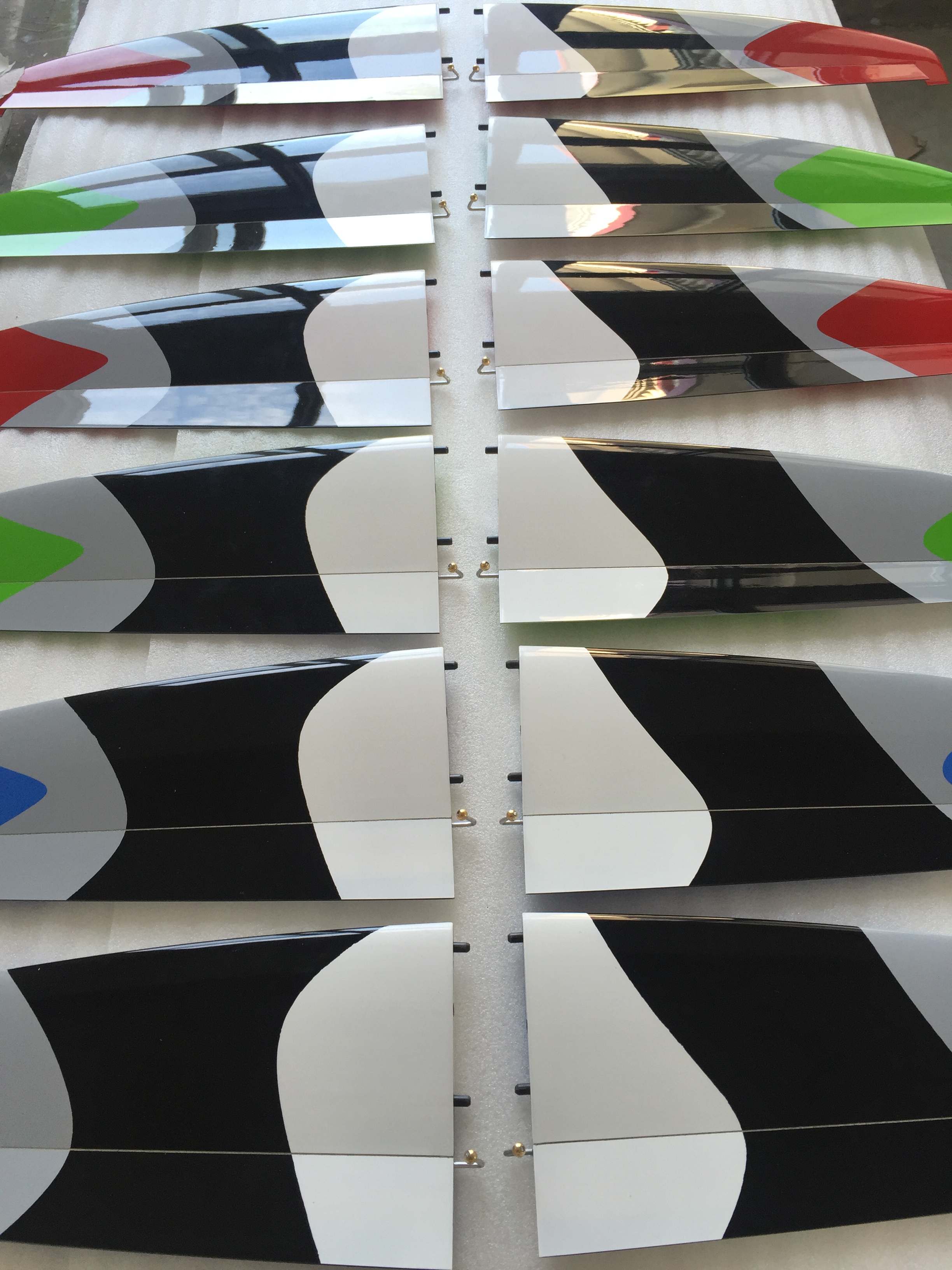 Description
Highly anticipated new RedShift F3F slope racers.this 3 m plane makes a great fast sports model or a good intro to F3F slope racing. With its long thin wings at an aspect ratio of 18.8 this plane looks great in the air and has a very low drag when pulling high G F3F turns, allowing speed to be maintained on a pylon (F3F) course, or when big air flying aerobatics.
The surface finish is as good as the best top rated manufacturer's planes. The design is cutting edge with a high aspect ratio wing and specially developed racing airfoils, yet is very practical with ample space in the fuselage and well engineered tail linkages.
The fuselage is carbon, with a friendly Kevlar laminated front section featuring a slip-on nosecone to give excellent access to the RC, which is installed on a substantial glass fibre servo tray. The tail pushrod outers are bonded in place and the V tail torque rods are already installed. The tail linkages are completely internal to minimise drag, while the included 20 mm x 20 mm x 370mm long square fuselage ballast tube will let you load the plane to the FAI limit and beyond.
The two piece wings are beautifully molded giving a high gloss finish. The wing skins are very strong, minimising hanger rash, and are bonded to a substantial carbon "sine wave" spar which gives immense additional torsional strength needed on todays high aspect ratio racing planes. The wings include nice pockets for the flap and aileron servos and the aileron/flap control horns are pre installed in the factory. Each wing root also includes two 20 mm x 10 mm x 250 mm long ballast tubes.
The kit accessory bag includes the fuselage servo tray, four plastic servo mounting frames (designed to take larger 30 mm x 35 mm wing servos), clevises and colour coded hatch covers. The customer will need to supply the metal wing control rods and the tail linkage pushrod ends to fit to the supplied carbon tail pushrods. The cut outs in the fuselage servo tray are for servos with a body footprint of 23 mm x 12 mm.
The video shows an early glass wing prototype but we are stocking single carbon and double carbon versions only which are extremely rigid. Double carbon ones are recommended for racing and the single carbon ones for sport flying.
Redshift has a breathtaking turn of speed as well as good aerobatic performance, and will rip around F3f turns at a blinding rate - so turn up the gain on your pacemakers and give this one a try!
Red Shift Typical Weights
Fuselage inc pushrods310 g10.9 oz
Left wing687 g24.2 oz
Right wing689 g24.3 oz
Tailplane86 g3.0 oz
Wing joiner120 g4.2 oz
Ballast tube48 g1.7 oz
Accessories38 g1.3 oz
Total structure1978 g69.8 oz
Wiring30 g1.1 oz
Receiver10 g0.4 oz
Tail servos (2)40 g1.4 oz
Wing servos (4)92 g3.2 oz
Battery150 g5.3 oz
Flying weight from2300 g81.1 oz
Recommended RC
V tail (servo body max 23 mm x 12 mm)MKS HV6125e, MKS DS6125e, KST DS215MG, KST X12-508, KST MS320, Blue Bird BMS-106HV, Blue Bird BMS-107HV
Flap (servo max 12 mm thick)MKS HBL6625, MKS HV6130, KST DS225, KST DS125, KST X10, Blue Bird A56V
Aileron (servo max 10 mm thick)MKS HBL6625, MKS HV6130, KST DS225, KST DS125, KST X10, Blue Bird A56V, KST X08 Plus*, KST X08*